It's interesting to see all the different opinions out there regarding how often we should weigh ourselves.
Every day.
Once a week.
Once a month.
One a year.
Never.
There's so many rationales behind how often we should use the scale to 'keep us on track.' It's commonly preached that if you notice that scale creeping up, that means you need to cut back on the treats or up the exercise. But on the other hand, there's concern that being too involved in tracking your weight (and dealing with all the fluctuations that come with that) can be frustrating, useless, and at times, can help contribute to an eating disorder or disordered eating/exercise habits.
It's been years since I weighed myself every day, but that's definitely a practice I used to engage in. As I got healthier, got further into recovery and started putting less emphasis on my weight, I slowly cut back on how frequently I weighed myself. Over the last year or so, I'd say I typically hop on the scale every 1-3 months.
Even though I had absolutely no interest in weighing myself any more frequently than that, I still felt like I needed to have a scale around. So that whenever that urge hit, whenever I felt like I absolutely had to know my weight, I could hop on. I knew that the number didn't really matter and wasn't a reflection of my health, but I still liked to know approximately where I was, weight-wise. I carted the scale around to every apartment that I've lived in for the last 3-4 years.
Until now.
When I was back in Ontario packing up my things for the move, I stood in the bathroom and stared at the scale for a few minutes. The same scale that I tracked my weight on throughout my eating disorder, throughout my recovery, and occasionally through my life as a happy, healthy individual.
I thought about packing it in with all my bathroom stuff, but as I looked at it, I realized that I really just didn't want it around anymore.
Although I know that my body image is light years better than it was a few years ago, I still felt some sense of anxiety whenever I'd strip down and get ready to step on the scale. I would mentally prepare myself to be ok with whatever number popped up at me – whether it was the same, higher, or lower than what I remembered.
That scale still had power to affect my mood, and I didn't like that.
So I left it behind. It's still sitting on the floor my parents house, and that's where it'll stay.
Because really, who gives a shit what I weigh?
Because a stupid piece of plastic should not have the power to affect my mood.
And because I'm so much more important than whatever a scale could tell me.
Honestly, there was a little nervousness when I made my decision. It was a little bit like giving up a security blanket – I liked having it around as a 'just in case.' But frankly, the scale can't tell me anything important – I'd rather use how I feel to assess how my health is holding up. Frankly, I know when I'm 'indulging' more than usual or when I've been more active – I don't need a scale to either confirm or deny that. There's so many other (and better) ways to measure progress.
This is the first time I've been completely scale-free in my memory. And I think I like it better this way.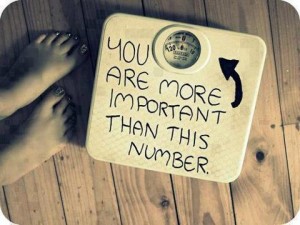 <— Do you own a scale?
<— How do you feel about weighing yourself? How often do you do it?