As per usual, thank you sooo much for your kind words and support yesterday! It's not an easy topic to discuss, but getting your words of advice and encouragement always, always make it worth it.
And P.S. – the winner of the Kewaza Giveaway is Riss W. Riss, please check your email!
Hii! Happy (WIA) Wednesday!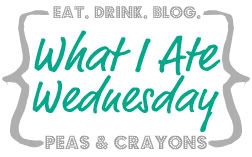 So I think we've all noticed that 'low-carb', 'gluten free' and 'grain free' are all the rage these days when it comes to diets and how we should eat to stay 'healthy'. I try to stay away from labels on my diet in general, but I've come to realize that for my health, those are some of the worst things I can do. I'm a huge believer in bio-individuality, and my body seems to do well on a moderate-to-high carb diet. When I start cutting them, my digestion suffers, my energy suffers, my sugar cravings are insane…so, I know better than to go to the low-carb side of things. And grains and gluten don't seem to bother my system, so I have no problem eating those on a regular basis…even the occasional (gasp!) refined carbs.
For today (Monday's) day of eats, all of my main meals were completely carb-based. And I am perfectly fine with that!
Breakfast:
Toast with half an avocado, hot sauce, fried eggs, and a side of cantaloupe. I'm eating hot sauce at breakfast…I don't even know what's wrong with me. At least the cantaloupe provided some element of sweet breakfast?
Lunch
We ended up going out for dinner Sunday night with Eric's mom and her boyfriend, so I repurposed my leftovers for lunch the next day.
A a shrimp curry pasta dish tossed on top of some spinach and eaten cold. Arman, you may be onto something with the cold noodle dishes.
An outtake:
Silly pug. That's my noodles.
Snack:
Car smoothie.
Almond milk, a frozen banana, protein powder, peanut butter, and spinach. I had to drive up to school to proctor an exam, so a smoothie made for tasty driving fuel.
Dinner:
Suuuuushi! I knew I was getting back into London (Ontario) around 7:00 ish, so I told Eric I'd just swing by the Asian grocery store on my way home. It's not the absolute best sushi around (nor do they even label the boxes, so you kinda have to guess what you're getting) but it's cheap and perfect for a quick sushi fix.
Dessert:
Mmm…Easter chocolate.
Snack:
A somewhat horrid picture of a mix of chocolate casein and plain goat's milk yogurt (a new purchase – it's pretty good) and peanut butter.
So lots of grains, lots of gluten…and it was all fabulous.
Have a good one!
<— Low-carb: yay or nay?
<— How much Easter chocolate do you have laying around? I have a lot…which is fine with me!
<— Are you a big sushi fan? My brother wants to go out for AYCE sushi for his birthday next week and I cannot wait!