Pssst! Don't forget to entire the Kewaza Giveaway – it closes this weekend!
Hiii! Happy Easter!
And of course, happy Friday! Let's just get right into it, shall we?
5 Things I've Eaten This Week:
1. A burger salad with kabocha.
Basically, I just crumbled up one of Monday's burgers on a bed of romaine with chopped tomatoes, pickles, ketchup and honey mustard. Because anything can be made into a salad.
2. Shrimp and crab stirfry with veggies and rice noodles.
3. Omelette with sausage, green onion and bell pepper and buttered toast.
Breakfast for dinner win.
4. Banana, chocolate and peanut butter smoothie with coconut butter and cereal.
…I need more puffins.
5. Tuna melts on pumpernickel with baby carrots.
One of my favourite easy dinners.
5 Things Happening This Week:
1. I installed F.lux on my computer a few days ago and I have been noticing a difference in my quality of sleep! F.lux is a program that adjusts the lighting on your computer depending on the time of day, so after the sun goes down the light fades to a reddish tinge. Research suggests that blue lights (such as the ones emitted from a computer screen) disrupt the natural melatonin cycle, making your brain thinking that it's daylight hours. Red light doesn't effect the cycle – so using the program is good for those of us who don't tend to abide by the 'electronics-off-one-hour-before-bed' rule.
2. So with Easter dinner, my family usually just does a turkey. Actually…we do that for every big holiday. But is that just a Thanksgiving thing? What do you usually eat for Easter/Passover?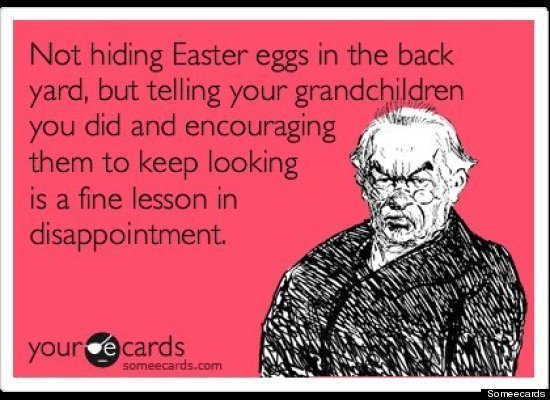 (img source)
3. Despite the fact that my workouts aren't exactly injury-inducing these days, I managed to pull a muscle in my leg a few days ago. It's feeling ok as I'm writing this (Thursday night) so hopefully I'll be good to go to Physique this morning. But still, it's a little sad that I probably managed to hurt myself by walking.
4. Yesterday Atticus was really hyper in the afternoon and it was nice outside, so I took him out to my building's backyard to run around a little bit. We live right behind an elementary school, so the two yards are next to each other. We're outside and next thing I know, I hear someone yell " A DOG!" and then there's an absolutely horde of children pushed up against the fence to say hi – we were outside during their recess. One of them asked me his name, then suddenly they were all yelling "HI ABBICUS!" And sticking their fingers through the fence to try and pet him. And Atticus got to enjoy having a whole host of sticky fingers to lick.
How can you NOT love this face?
And it was adorable :-p
5. One article for my fellow Canadians  - number 5, 9, 10, 11, 15, 23.
And for my fellow almost-graduates: Your Calling Doesn't Always Look Like You Think It Should.
5 Things I've Pinned This Week:
1. You know when you're planning to go out to eat with someone and they're turning down everything you come up with?
Made even better by the fact that I watched this movie earlier this week (and a few days before that, The Princess and the Frog…yes, all I watch is children's movies). (source)
2. These might be the best life lessons I've ever seen.
Agreed, yes?
3. Also very true:
4. 5 Ingredient Inside-Out Peanut Butter Cups via Edible Perspective.
'Peanut Butter Cup' is basically my magic word (phrase?), inside out or not.
5. Dark Chocolate Cake with Vanilla Icing via Shugary Sweets.
Throw some peanut butter in there somewhere and you basically have my idea cake – I love chocolate cake, but vanilla icing. 
That's all for me today – have a fabulous weekend!
<— Dill or bread and butter pickles? Bread and butter. So good.
<— What does your family usually eat for Easter/Passover?
<— What's your favourite kind of icing? Vanilla buttercream – I cannot stay away from it.
<— Do you tend to use electronics right up until you go to bed? Guilty.