14 Flares
Made with Flare

More Info

'>
14 Flares
×
You guys. The support and love in this community continues to astound me over and over again. All your emails, comments and tweets on yesterday's post seriously mean the world to me, and knowing that I have so many people supporting me makes this process that much easier. Thank you from the bottom of my heart
And it's the first Five Things Friday of Spring! Of course, this would be better if there wasn't snow on the ground…but…Spring is coming, right? A few years ago, it was 27 (80) degrees on March 20th. I got a sunburn. It was worth it.
Le sigh. But on to the post, shall we?
Five Things I've Eaten Lately:
1. Cereal bowl with banana slices.
Uncle Sam's Supergrains Rye & Hemp, Cinnamon Puffins, banana slices, and 2% milk. Umm, why don't I eat cereal for breakfast more often? So simple. So good.
2. Holly's Crustless Quiche and Irish Soda bread with butter.
I changed up the quiche recipe a little bit (sliced bell pepper instead of broccoli, basil instead of thyme, 2% milk instead of coconut milk) but it was awesome! Definitely a repeat dinner – Eric really liked it as well. And of course, the Irish Soda bread is amazing.
3. A 'Porkgasm' (how's that for a name?)  elk burger from Works Burger with a side of onion rings.
Oh my god I love this restaurant. Eric and I had a double date there with the BFF and her boyfriend, who hadn't been there before. I was trying to decide between this one (which had bacon, havarti, caramelized onions and chipotle ketchup) and the 'Hunka Hunka', which was bacon, banana slices, and peanut butter…maybe next time? And there will be a next time soon, because that was awesome.
4. White chocolate froyo with mini M&Ms, frosted animal crackers, chocolate covered marshmallows, chocolate covered pretzels, sprinkles and caramel sauce.
Umm, I'm slightly ashamed at how small that is. But in my defense, that happened half an hour after the burger…
5. Kewaza Energy Balls in Peanut Butter Cookie Dough.
I'll be talking more about these delicious little things in the next couple of weeks!
5 Things Happening Lately:
1. I know there's a lot of Frozen's 'Let It Go' remixes out there, but this one is my favourite:
Seriously, I freakin' love this guy (and his hair).
2. Atticus loves to eat everything he can find. The other day after I let him out on the balcony, he was sitting on the couch chewing on something. This is pretty normal, and it's usually just because he's picked up a twig or a leaf or something. So I'm trying to get it out of his mouth and I notice that it's squishy…it was one of those bright green caterpillars! Gross, Atti.
3. Eric and I figured out that Sunday will be our 1000th day of dating. Umm, what?
A few weeks after we started dating. Jesus, we were babies. And I swear to god that I didn't fake-bake…apparently, sunscreen is a good idea on more than just your face when you run outside in the summer.
4. You know what sucks? When you're reaching for handful of cereal at 10 pm and you accidentally knock over a huge (full) bottle of balsamic vinegar. Of course, it will shatter and you have to try and clean it up with simultaneously trying to stop your dog from licking up vinegar/broken glass. Le sigh. Definitely had to throw out that towel…
5. Eric and I ended up getting into a big conversation about feminism the other day. I went to an all-female campus for most of my undergrad and a lot of my sociology degree focused on inequality, so it's something that I feel like I have some knowledge of. So naturally, it bugs me that the idea of feminism planted in a lot of people's brains is the idea that all feminists are bra-burning-men-haters. There's been some cases in the media lately where celebrities (Katy Perry, for one) really misuse the term. I think this pretty much sums it up: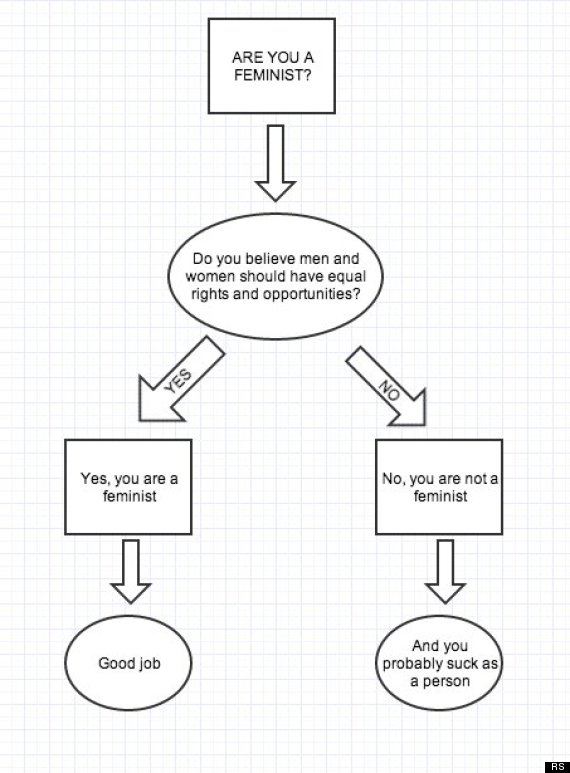 (img source)
Yup.
5 Things I've Pinned Lately:
1. Chocolate Chip Cookie Cake from Sally's Baking Addiction.
So, I don't think I've ever had a cookie cake. That's a bad thing, right?
2. Banana Chocolate Mug Cake via The Almond Eater:
Perfect for my current mugcake obsession.
3. German Chocolate Bundt Cake via Tasty Yummies:
I've been looking for a gluten-free dessert for Easter, so this one just got entered into the list of possibilities.
4. Double Chocolate Chip Pudding Cookies via Living Better Together:
Because really, who wants to have to decide between a cookie or pudding?
5. This.
I got my hair cut on Tuesday…I was thinking of cutting a good chunk of it off. Nope, didn't happen – I just took off a few inches. One of these days, I will actually try something new…
Have a good weekend!
<— Best thing you ate this weekend?
<— When was the last time you had a bowl of cereal and milk?
<— Anyone else accident prone?
<— Favourite froyo topping? Mini M&Ms or Chopped Reese's for me.