14 Flares
Made with Flare

More Info

'>
14 Flares
×
And here we are at the last Friday in August. It feels weird just saying (typing) that. While I do love summer, I'm a huge Fall girl, so I won't complain that September is just around the corner.
But, onto the Friday lists, shall we?
5 Things I've Eaten Lately:
1. Steak and chicken fried rice.
Yes, that is basically the most random dinner ever. We stayed at Eric's mom's last Saturday night and she wasn't home, so we decided to just empty her fridge of her leftovers 
2. Buffalo chicken wraps with a side salad.
Yes, I am aware that the side salad is nothing but lettuce. I didn't actually buy any veggies this week, and we've just been eating out what's left in the fridge…which is basically the bare essentials. Fortunately, there was ranch dressing in there to save it.
3. Office Chinese food.
My office threw a goodbye lunch for me on Tuesday, and ordered Chinese. You see that rib in red sauce? I have absolutely no idea what it was exactly, all I know is that I need it frequently. And I'm not even that much of a rib person, it was just that awesome. I don't know what most of what I ate was, but it was fabulous and I went back for seconds.
4. Whole wheat spaghetti with a beefed up tomato sauce (onions, mushrooms, spinach, ground chicken, Italian seasoning) on a bed of chopped spinach.
Basically, this is the best way to add veggies to a carb-heavy meal when you're feeling too lazy to make a salad. Which for me is like 90% of the time.
5. Pancakes with a bit of butter and maple syrup. AKA: The week's vegetarian dinner.
Might be a bit of a cop-out vegetarian meal, but a delicious one nonetheless 
 I ended up using unsweetened chocolate almond milk (didn't want to open the vanilla when I still had that one to finish off) and adding a bit of protein powder to give it staying power. Have you ever had it when you're making pancakes and then you accidentally make the batter to runny, so you add pancake mix and then it's too thick, and then it just keeps happening until you end up with like the double the amount of pancakes that you were planning on?
Because…that happened. And we still ate them all (I went back for another) and then I was in a pancake coma all night. Delicious. Also, after years of refusing to put butter on my pancakes (thinking that it was a waste of calories)…it is basically the best thing ever and makes all the difference. So please people, butter your pancakes.
5 Things Happening This Week:
1. I'm moving tomorrow. And it's supposed to feel like 36 (96) degrees. I've already stocked up on water and Gaterade…and bribing my movers (read: family and friends) with Tim Hortons, because we need to get the moving van back by 3 pm so we're getting an early start. And Eric's getting beer for the afternoon. Yup, bribing.
2. I love watching Twitter blow up over random celebrity stuff – Miley Cyrus is the big one, obviously, but at the end of last week when it was announced that Ben Affleck would be the next Batman? Hilarious (and yes, I think that he will make a terrible Batman).
3. I can barely move around in my apartment right now. #movingproblems
I don't think the pug is a big fan either.
4. I was thinking about the fried egg after I posted it, and I think I have the answer.
I think it was hard-boiled until the whites were set, peeled, tossed in a light coating (maybe even just floured) and deep fried. Now, to get a deep fryer doing so I can recreate…
5. We won't get our internet hooked up until Tuesday. So Saturday – Tuesday = no internets…I may go slightly crazy without you guys for a few days! I do have posts ready to go for Monday and Tuesday, but hopefully everything will be ready to go Wednesday to resume blogging/blog reading per usual.
5 Things I'm Looking Forward to About Being Back in London (Ontario):
1. Being closer to friends and family….that's the obvious one. Also a bonus: closer to my mom's laundry machine so I don't have to pay to use the machines in my building.
 2. The London restaurant scene. London has a much, much better selection of restaurants than Brantford does. And there's a few more that have opened up since I left, so I need to start a list going. I have a feeling that it'll be a long one…
3. Springbank Park.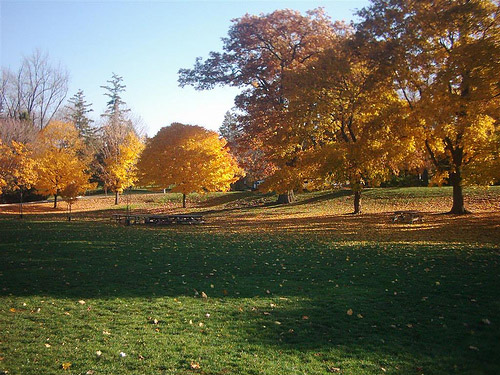 One of my favourite parks that I've ever been to, and it's pretty close to my apartment. Somehow, I think that this sort of scenery will get me back into running more than anything else…and it's perfect for puppy walks.
4. Closer to the US border so I can go Stateside shopping that much easier. Yes, I do think about these things…I'm sorry, but Canadian Target just isn't quite as good!
5. More options for entertainment. Between the sheer amount of movie theatres, bars/pubs, restaurants, the Grand Theatre, parks, walking/biking trails…I think that we'll be able to get out of the house a bit more often. I am definitely a homebody, but I like to have options when I feel the need to escape my apartment for a little while.
But…last day of work. And then more packing. Oh goodness.
Have a great weekend!
<— Do you still live in your hometown? Is that the way you prefer it?
<— Pancake toppings of choice? 
<— Ben Affleck as Batman – yay or nay?
<— Any last minute moving advice for me?