16 Flares
Made with Flare

More Info

'>
16 Flares
×
Happy Friday (the 13th!) Does it feel weird to anyone else that we have a 'spooky' day so close to Christmas? Oh well…I'll just make sure I don't stumble across any black cats or shatter any mirrors today.
But as it is Friday…that means Five Things Friday!
5 Things I've Eaten Lately.
1. After braving the mall last Saturday night, I was in need of comfort food.
Of the fast-food burger variety. I'm not even a big beef burger fan but I love Five Guys. Little cheeseburger and a diet Coke, plus Eric and I shared an order of fries.
2. Cashew Shrimp and rice.
I went out for linner with my Mom and my aunts on Sunday, and I was excited when they decided on Mein Street – one of my favourite restaurants. I went with a Tom Yum soup appetizer and cashew shrimp for my main course. They were good choices.
3. Dessert round.
The sweet tooth runs in my family, so of course, there was dessert. My mom and I chose the mini duo mini mousse cakes (my mom had her own plate as well, just didn't make the photo – they were one milk chocolate, one white) and my aunts both went with the banana cake. My mousse cakes were awesome, but I was pretty blown away by the banana cake when I had a bite – like carrot cake, but a million times better.
4.  Banana protein oats in a coconut butter jar, topped with strawberry jam.
And now I'm a tad depressed that I'm out of coconut butter….dammit pricey food loves.
5. Pork stirfry with a fried egg and a rice cake with cream cheese and strawberry jam.
Look, I put effort into lunch! Although, this served as a reminder as to why I don't usually do that…I ate half the pork while I was waiting for the veggies to cook. Still tasty though.
5 Things Happening This Week:
1. I think Atti needs a new bed/mat for Christmas.
Looks a little bit small for him, doesn't it?
2. And speaking of the pug…
Happy news! We took him into the vet yesterday to get the stitches out and the cone off, and the vet is happy with how well his eye is healing. He still has a bit of a scar on his cornea, but the vet is pretty confident it will clear up on it's own in a couple of weeks. I was so, so relieved to hear that! Between his eye and getting fixed, he's definitely had a rough couple of weeks.
3. More happy news…I WON one of the Swanson's Vitamins 30 Days of Giveaways!
That was definitely a fabulous surprise! I just placed my order a few days ago, but I can't wait to receive it…Merry Christmas to me, indeed!
4. So, it's awesome that it's almost the weekend and everything, but I have to admit that I'm really looking forward to Monday. I have a baking day planned with my aunt and two of my cousins. An entire day of baking…who wouldn't love it? I've picked out what recipes I'll be baking, and they all sound fabulous. So excited!
5. My phone is driving me insane. I've had it for about a year, and right now it's going insanely slow, not letting me know I have a text until half an hour later….bah. Apparently, I can get an iPhone 4 with my next upgrade, so I'm thinking I will be looking into that next time I'm at the mall.
My Top 5 Christmas Movies
5. How the Grinch Stole Christmas
I go back and forth between finding Jim Carrey hilarious and finding him horribly annoying – this is one of the former. For one of the later, see Ace Ventura: Pet Detective.
4. National Lampoon's Christmas Vacation.
Admit it, we all wanted that sled wax.
3. Rudolph the Red-Nosed Reindeer.
Now this one is just a classic. I can't decide who I love more – Hermey, or his boss.
2. The Holiday.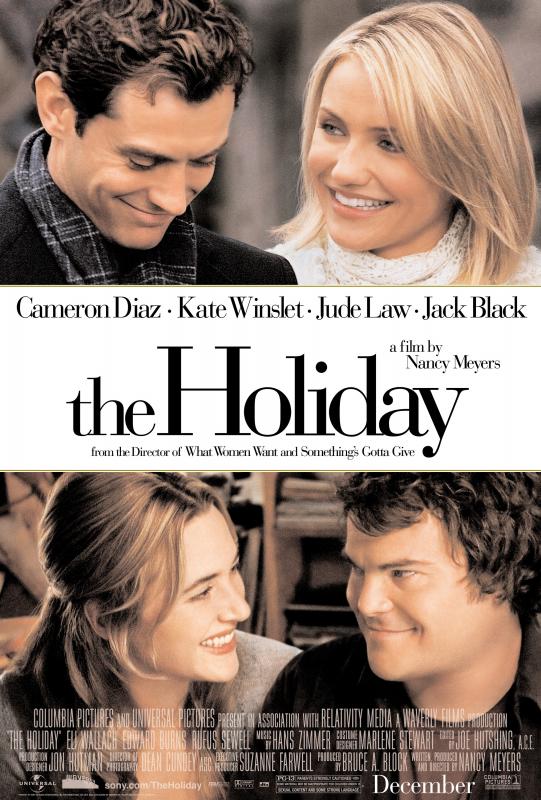 This movie is just cute. I mean, Kate Winslet, Cameron Diaz, Jude Law and Jack Black…how can you go wrong? Side note: would anyone actually consider doing one of these housing swaps? I think it'd be pretty fun.
1. The Polar Express.
This will always be my favourite Christmas movie. I remember loving the book as a kid, so of course, I was happy when they put out a movie version – especially because it actually does the book justice. The scene where they're going down the mountain never fails to make me dizzy!
Have a good weekend!
This post is part of Clare's Five Things Friday linkup. Thanks for hosting, lady!
<— What are your favourite Christmas movies?
<— Best thing you've eaten this week?
<— What was the last thing you won?
<— Would you ever switch houses with someone in another country for a few months?