14 Flares
Made with Flare

More Info

'>
14 Flares
×
Yup, we're into a new month so it's time to talk about the monthly goals!
First of all, reviewing how I did with my goals in September.
1. Try some new fitness classes.
Done and done! I didn't get around to trying out the Crossfit box near me, but the insane amount of classes at my new gym have more than sufficed. I've taken aerial yoga, hot yoga, circuit training, boxing, bootcamps…and I'm loving it! I'm changing things up in my routine for sure, and I'm excited to see what classes I end up falling in love with.
So.Many.Classes…
2. Get 75-100% of my preliminary research done for my thesis.
As of Friday, all my research/coding should (will) be 100% done. The reason why I'm pushing this so hard is because I have a secret goal to graduate a semester early (grad school goes full year, so to finish on time will be to finish in August and I'm hoping to graduate in the spring). With the progress I've made, my supervisor has informed me that finishing in the spring  semester is a realistic goal. So…that's pretty awesome 
3. Make a savoury pumpkin recipe.
Half points for this one because I did it, I just haven't blogged it yet. Sooo look for that next week!
4. See as many friends as I can this month.
So…I did pretty well with this. I saw a lot of my blogger friends, which was awesome, of course. I was busier than I expected this month, so I have friends at home that I haven't been able to meet up with yet. This month should calm down a little, so I should be able to meet up with people a little more often. And I just found out that an old friend lives around the corner from me, so that's pretty cool!
So, I'm going to say a pretty successful month!
And, onto what goals I'm hoping to reach in October:
1. Try as many workout classes as possible.
So after trying some different workout classes and loving them, I'm now making it my goal to try as many as possible. My plan was to try all the classes that my gym offered, but when I sat down and counted them up…I realized that my gym offers 43 different classes, not including beginner and aqua classes (leaving beginner classes off my list for obvious reasons, and aqua classes off because right now all I have are bikinis and those probably won't hold over to well for a bootcamp in the water). As of this morning, I've tried 8…so probably won't get around to trying another 35 before November. But – as many as possible…let's aim for trying at least 30 total by the end of October. You never know – I may end up finding a new fitness obsession!
(source) After admitting my zombie obsession the other day, this just feels appropriate…
2. Stretch after workouts, and hit up a yoga class once a week.
I know, another yoga-related goal…sad that I keep trying these even though I never meet them. But, I have extra motivation now – during my fitness evaluation I found out how bad my flexibility actually is (believe me, it's bad…very much in the lowest category) so I really need to work on improving that. And with so many yoga classes I can try, I don't have an excuse why I can't make one a week!
They have a different aerial yoga class, so that's definitely on the list!
3. Get my G license.
In Ontario, we have a graduated licensing system – you get your G1 as your learners permit (so you can drive as long as you have someone qualified in the car with you), then your G2 (you can drive on your own, but must have 0 alcohol in your system, and you can't drive on the 400 series highways, which are basically the freeways in Ontario) and then your G, which is your full license. I've been taking the train to school because I haven't gotten my G yet, and the cost is starting to add up. My test in on Monday – keep your fingers crossed for me!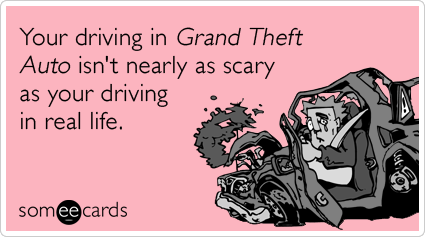 (source) I promise mine isn't that bad…
4. Ignore my stats for a month.
I know a lot of bloggers talk about how they don't pay attention to stats and…I'm not one of them. I do like to check mine daily, and if they're lower than normal, try to figure out why. Basically, I'm starting to drive myself slightly crazy and I think I need a detox. So, no stat checking until November.
So hopefully, I'm able to pull off these goals for the month. Have a good Thursday!
<— Ever done an aqua class? Were you a fan?
<— Bloggers, do you think you get too caught up in your stats?
<— At what age did you start driving?
<— What are you hoping to accomplish this month?