22 Flares
Made with Flare

More Info

'>
22 Flares
×
Hiii there! How's your Thursday starting off? Today, I'm linking up with Amanda for some Thinking Out Loud action.

More specifically, I'm joining her in talking Eating Disorders Awareness Week. In Canada, we had our EDAW a few weeks ago, where I spoke about body image activism and looking past what we see in the media. Obviously, eating disorder recovery is an issue that is near and dear to me, so I'm taking this as another opportunity to add to the conversation.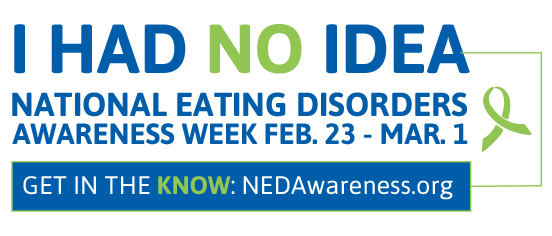 This year, the theme for NEDA is "I Had No Idea." The goal is to get people talking about the misconceptions that are associated with eating disorders, replacing them with real facts about the mental illness.  Because an eating disorder is just that – a mental illness. People have the misconception that it's simply a diet 'gone too far' or it's a lifestyle choice, but that is not the case. It's a combination of behavioural, psychological, biological and social factors that cause people to willingly starve themselves, binge, or purge. Before I developed my ED, I had all sorts of false assumptions about it. Only through getting anorexia and coming out recovered on the other side, did I learn some key things about it.
(img source)
1. I had no idea…that a 'diet' could go that far.
I started out with anorexia the way a lot of people do. Simply a desire to 'lose some weight.' I had moved home after my first year of university (an experience which I did not enjoy) and a bad breakup, and I simply wanted to feel a little better about myself. I suffered from binge/restriction cycles in high school, which stopped during my first year of college – so I naturally lost some weight. I knew that that felt good, so I wanted to recreate that feeling. This was despite the fact that medically, I was at a perfectly healthy weight (even on the lower end of BMI standards). So I lost 5 pounds. Which turned into 10, then 20….and kept going from there. A desire simply to lose some weight and feel better about my body led to so much more. 
2. I had no idea…that I could be so much in denial.
At the beginning of my eating disorder, I would never, ever tell you that I thought I had a problem…even though deep down, I knew that I did. I was the queen of denying that I had an issue: if anyone gave me a funny look or asked me how or why I had lost so much weight, I'd just tell them that I "just eat really healthy and exercise!" I even wrote a paper for my Sociology of Deviance class in my second year about how being 'naturally skinny' (in my case? ya right) could be considered deviant because people would assume you had an eating disorder. Needless to say, it took me a long time to admit that there was something more going on.
3. I had no idea…that it wasn't normal 'dieting' behaviour.
I figured that diets weren't supposed to be pleasant. But I didn't realize that constantly being on an extreme 'diet' wasn't normal behaviour. South Beach says that carbs are bad? Fine, I'll never eat them again. Peanut butter has how many grams of fat? That's gone too! I didn't realize that thinking and dreaming about foods I 'couldn't' eat and not being able to sleep at night if I didn't think I got enough exercise that day just wasn't normal. Counting down the minutes until my self-imposed 'meal time' wasn't normal, either. I didn't realize that what I was doing was seriously disordered and not simply 'the quest for health' that I presented it as.
4. I had no idea…that food wasn't the answer. 
When people learn about eating disorders, eat more food seems to be the only solution. I had more than one person tell me "I'll just take you to McDonald's and force-feed you some burgers!" Umm, this is helpful how? People seem to think that the only goal of an anorexic is to be skinny or beautiful, but that is so, so false. Eating more food and reaching a physically healthy weight is only part of the solution.
(img source)
5. I had no idea…that my anorexia was caused by such an amalgamation of factors.
Although it started off as a means to lose weight, having that transform from weight loss into a serious eating disorder was caused by so much more than that.
Physically, I wanted to be smaller. I wanted to take up less space, because I didn't think I deserved to be noticed.

Emotionally, I had emerged from a psychologically and emotionally abusive relationship, and didn't know how to get past how he made me feel – useless, broken, and unworthy.

Mentally, I had issues with anxiety and depression for years.

Genetics could have played a factor. While I can't say for sure if my eating disorder was influenced by genetics, many studies now suggest that genetics could be a component. I'll never know, but it's likely that this could have played a part for me.

Personality-wise, I had set impossibly high standards for myself in almost every aspect of my life and needed to control everything around me. When I couldn't do that, I decided to control my body. My perfectionist personality ran with it, until my health was seriously compromised.
What started off as being about weight…in the end, was about everything but.
6. I had no idea…how close I was to causing serious, serious damage to myself.
When it became clear that I had a serious, serious issue, I was given a number. I was told that if my weight got below that number, I would be hospitalized. I would also likely end up on a wait-list for inpatient care. Later on when I started therapy, my therapist mentioned that that weight I was told was usually the breaking point for a lot of anorexia patients – they either turned back to health, or they got much, much worse.
My weight settled at 2.5 pounds about that number, where it stayed for several months.
2.5 pounds. A person's weight can easily fluctuate 2.5 pounds in a day. If I lost that small, seemingly insignificant amount of weight, my life could be very different now…if I still had a life at all. I could have been in the hospital or I could have had to quit school to be sent to get treatment. Maybe it wouldn't have made a difference, but maybe it would have made all the difference in the world. I reached the point where I could either jump off that cliff and surrender myself completely to my eating disorder, or I could turn back and get help. I decided to turn back.
People who suffer from EDs can find themselves with a whole host of medical complications. Osteoporosis. Organ failure. Dangerously low or high blood pressure.  Fertility complications. Depression and suicide. (source)
As far as I know, I managed to escape mine with my health intact. But if I didn't get help when I did, who knows what could have happened? 
7. I had no idea…that recovery would force me to acknowledge deep, painful truths about my life.
Before I started therapy, I never would have acknowledged that the relationship I mentioned previously was abusive. He didn't hit me or physically hurt me in any way, so how could that be considered abuse? But of course, it isn't a loving relationship if you're manipulated, made to feel unworthy, and controlled by your partner. During therapy for my eating disorder, I had to FEEL things that I had forced down and bottled away. I had to learn to speak up for myself and acknowledge when I was hurting. I had to learn to quiet the parts of my mind that insist on perfection and control, and let myself be comfortable with who I am. All of which took years to really be comfortable with.
8. I had no idea…how much it would be worth it.
Every damn tear that I shed in therapy sessions, every time I wanted to throw a fit when the number on the scale went up, every time I had to buy new pants because the ones I had excitedly bought in my ED wouldn't fit anymore, every time I looked in the mirror and saw my 'thigh gap' and 'bikini bridge' disappearing, every time I wanted to throw my dinner across the room because I was terrified of what ingredients were in it…it was worth it.
Every.single uncomfortable moment of recovery was completely, 100% worth it. I can't ever imagine going back to living like I was with anorexia. I was living a miserable existence – I can't even really call it a 'life', because I didn't have one outside of food and exercise. Every element of my life suffered, and over the years, I've been slowly gaining it all back. My relationships. My self-love. My health. My fertility. Over the last few years it's all been coming back to me.
Do I wish I could naturally be skinnier? Sure. But I know that recovery and living a life not consumed by food and exercise is so much better than losing a couple of pounds. Right now, I'm taking an 'eat more, move less' approach to sorting out some final health issues. Is it uncomfortable? Absolutely – and hard on my body image. But every time I want to stop, I remind myself how much worse living with anorexia was. A bit of bloating and discomfort? I'll take it over disordered eating behaviours any day.
So if you're in recovery and ever find yourself asking if it's worth it…the answer is yes. Things are so much better on the other side. If you're suffering, remember that help is out there. Don't be afraid to reach out. I can promise you that years down the line, it'll be the best thing you ever did.
(img source)
No questions, just your thoughts.