174 Flares
Made with Flare

More Info

'>
174 Flares
×
So, I have a bit of a confession to make. 
I'm all for media awareness and against promoting unrealistic images of women…but I still buy magazines. Specifically, I have subscriptions to Cosmo and Women's Health, and neither or which are going anywhere anytime soon. By this point in my relationship with my body and with the media, I'm able to recognize photoshopped images for what they are – fake, altered, and not something to see as inspiration.
So, I read the articles, I look at the fashion pages and pretend like I have an inkling about how to put a stylish outfit together, and read all the 'true life' stuff. 
But something that I skip over because it makes me a bit ragey? Anything that tells me how to 'shop my shape', or what kind of styles/clothes people with certain body types should be wearing. 
First of all, from what I've seen, most magazines offer basic body types: apple, pear, boy-ish, or athletic. So to begin with, only the fourth one of those descriptions sounds flattering. If you're not athletic, you're being compared to a fruit or you're told that you resemble the opposite sex. Non particularly sexy-sounding. And somehow, I doubt they're able to encompass every female body type in four different varieties.
I'm annoyed with them because I don't think I (or the vast majority of women) fit in ANY of them straight-up. I don't really have hips to speak of, which puts me in the 'boyish' category, my shoulders have gotten broader in the last year, which falls under the 'athletic' category, but I naturally put weight on in my stomach, which makes me an 'apple'. See the frustration there? It doesn't help that the models these features tend to showcase look almost EXACTLY alike – or they actually use the same model to show each piece. Cue more confusion.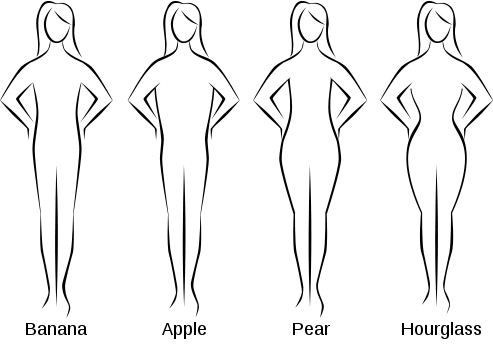 I mean, who looks EXACTLY like one one of these prototypes? (img source)
I've also noticed that the emphasis in these articles is on how to 'hide' certain aspects associated with that body type. 
Apple shape? Wear a tankini to the beach to hide the belly pooch!
Athletic? Wear ruffles to soften your muscle-y look.
Boyish? Wear jeans that add 'dimension'.
It' all has a bit of negative connotation, doesn't it? How to hide certain elements of your 'body type'. 
When I did read these articles, I would associate my body type with an 'apple'. So the tips I got all emphasized hiding your belly. I'd look at that and think "oh shit…there goes all my bikinis, low rise jeans, and anything else that doesn't zip up to under my bellybutton. I can't let anyone see that my stomach has a bit of a roundness to it!" After thinking that for years, I'm at the point where my attitude is 'fuck it.' I wear bikinis and low rise jeans – because I LIKE them. My wardrobe contains bits of everything that makes me feel good.
So no, I don't shop for my body type. I hate being told to do so. I ignore it, and go for what I think looks pretty on the rack and looks pretty on me. I don't focus on what body parts to hide or disguise away, and instead focus on emphasizing what I love about myself. I think my current attitude reflects the work I've put into in repairing my body image over the last few years – instead of looking in the mirror and focusing on what I need to cover up or try to disguise, I just immediately turn to what I like and like to emphasize.
I'm all for buying what you think you look best in. If you want to wear a bikini, then wear one – even if a magazine tells you that you should be wearing a one piece. Wear what YOU think looks flattering. I fully believe that confidence makes an outfit or a style, or a look – if you think you look awesome, other people with recognize and respect that.
So wear what you feel comfortable in, no matter what. Wear the bikini, wear the shorts or the tank top – whatever you want to do, go for it. We're all gorgeous, so if you want to show it off, then go for it!
Have a great Tuesday!
<— How do you feel about being told to 'shop for your shape?'
<— Do you think you fit into one of the 'typical' categories for body shape?
<— How do you decide what clothes to buy or styles to look for?