Good morning!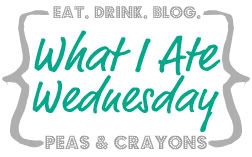 Clearly, Wednesday means we're going to talk about what I ate. Thanks to Jenn and the sweet little chickpea for hosting!
So being in my second year of my MA program, I don't actually have classes anymore. I'm doing research and I'm TAing, but that's it. Which, is why I was able to move back to my hometown – I don't need to be on campus more than once a week, for the most part. But the one day that I am there? It's a looong day. That has more to do with the train schedule than anything else, but it means that if I don't want to buy a lot (which I don't – TAing doesn't pay that well and travel costs kind of suck) I'm definitely packing meals and snacks to go.
Because I only lived a few blocks from campus last year, I very rarely brought food with me – I'd just head home for lunch. I'm so out of practice! Hopefully, I'll get used to it again soon.
Breakfast
So, my long day with all my packed eats started with a packed breakfast. I was on the train by 7:30 am, so I broke out my breakfast on board just after 8 am.
Plain 2% Greek yogurt with a bit of vanilla protein powder and cinnamon mixed in, peanut butter, some mango chunks, and Fibre 1. I love it when I have an almost-empty yogurt container, that's one less that I have to worry about taking home to wash!
Snack
I had an appointment at the hospital at 11:30 (I'm fine, everything's fine, I'll explain in a later post!) with plans to head back to campus and eat my packed lunch afterwards. When I was still in the waiting room at 12:30, I knew I had to rethink that plan – thank god for purse snacks.
Baby carrots – so classy taking pictures in my lap in the waiting room.
And a Banana Nut Muffin Questbar – somewhat squished from being in my purse for a few days, but still good. Canadian GNCs are finally stocking these! They only have 4 flavours and I'm picky about which ones I like (still need to try that elusive chocolate chip cookie dough though…) but one of them is Banana Nut Muffin, which is probably my favourite out of all the ones I've tried.
Lunch
I had my TA class at 4:00, so I broke out my lunch back in the grad office around 3:15.
A mish-mash of things: some leftover salmon, roasted squash (aaaaand I need to buy more squash. The addiction has started) and some edamame that my best friend gave me. I can't remember the exact recipe, but I remember that it had soy sauce, ginger, garlic, and chili flakes.
By the time I needed to get back on the train (8:10 pm) I really should have been hungry, but I was hit with a sudden wave of nausea that just would not die. I hadn't eaten dinner yet and had absolutely no desire too.
 However, when I got home I found a fun little package from Wild Harvest (one of the HLS sponsors) waiting for me.
Animal crackers and green tea. So nice of them!
I was still feeling nauseous and had no appetite, plus it was almost 10 pm by that point. So, I went for a super simple snack/dinner.
Animal crackers, a sliced banana and peanut butter. I may have gone back for another handful of animal crackers…there is a reason why they're called CRACK-ers (so, so addictive. And delicious).
Besides the random stomach attack, I'd say it was a pretty delicious day of food. Especially considering how long I was away from a kitchen.
Have a good one!
<— What snacks do you tend to keep on hand for hunger emergencies?
<— ….so how many squashes have you roasted already this month? I'm keeping myself to once a week so I don't overdo it with squash belly.
<— What are some of your favourite portable lunches?
<— Do you have days when you're literally out of the house all day? Do you bring a lot of food, or just plan to buy?