17 Flares
Made with Flare

More Info

'>
17 Flares
×
Hello loves! Thank you for all your feedback on my post yesterday. Pseudo-recovery is definitely a difficult concept when you're going through it, but hopefully people can realize that true recovery goes one step further.
But, it's Wednesday, so….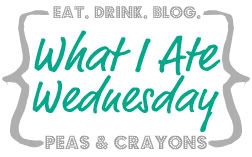 That means it's on to the eats. Thank you to Jenn and the chickpea for hosting…we're so close to seeing that little face!
So for today's day of eats, we're going to rewind to Sunday, when I had a lunch date with Chelsea. One of the downsides to moving is that I'm not going to be a 40 minute drive away from her anymore! We'll make sure we still get a lunch date going every once in a while though, I seriously love spending time with that lady.
Old picture, but the same idea 
When I woke up Sunday morning I was in a running mood – apparently, I like running on Sundays? Although my mind was willing, my body wasn't…it was definitely a lead-leg sort of run. 3 miles was plenty.
With some untimed walking/stoplight breaks in there. Runners who use a Garmin or timer, do you stop your watch for walking breaks or stoplights? I always do, but I'm not sure if that's the 'proper' way to do it. 
Refueled with a protein pancake.
I use the TIU Girls recipe, but without the berries and with whey protein. I also add 1/4 teaspoon of baking powder for some extra fluffiness. Topped with the rest of the sliced banana (at least, the slices that didn't end up going straight into my mouth while waiting for the pancake to cook) and some cashew butter.
A little while later, I made the drive up to Burlington, and then Chelsea and I headed into Oakville to O'Finn's Irish Temper, a restaurant recommended by a friend of hers. 
The interior was really cute: kind of dark, but it felt like being in someone's library or study. Very homey. 
For lunch, I was stuck between the California Club Sandwich and the Blackened Salmon Salad. The waitress pointed me in the direction of the salmon…and it was a good choice.
Chipotle crusted salmon, romaine, tomatillo salsa, cotija cheese, crispy tortilla chips and a fried egg.
I'm always a little weary to order salmon or fish of any kind in restaurants – it almost always ends up overcooked. But the chef here definitely knew what he was doing – it was cooked perfectly and I adored the chipotle crust. Perfect for a spice lover like myself.
The rest of the salad was fabulous too – big hunks of avocado, lots of salsa, and a good amount of tortilla strips – not too many that it overwhelmed the salad, but enough that it added a good crunch to the dish.
And can we please talk about that fried egg?
Obviously not what I was expecting, but it was amazing. I need to figure out how they did that so I can recreate it, because it was amazing.
Definitely a restaurant I'd want to go back to if I'm in the area again!
We spent the rest of the afternoon walking around downtown Oakville for a bit, then going to check out the Whole Foods. I love having friends that are just as entertained as I am to walk around grocery stores.
After Friday nights partying and Saturdays pizza, a kombucha was definitely needed to calm my stomach. A new-to-me flavour, but I really liked it!
(And clearly I needed a pug picture in there somewhere)
Once I made the trip back home (almost getting lost trying to avoid construction traffic, but I survived) Eric and I took Atti for a quick dog park trip.
Those two were chasing each other around the park for a while…I love how Atti plays with dogs that look like they could eat him.
I had a chicken in the slow cooker all day (using this method – still working great for me) so I used approximately half of it to put together a stirfry with veggies and brown rice.
Definitely hit the spot. Especially when followed by a few spoonfuls of Coconut Bliss a little while later for dessert.
(except it was vanilla flavoured)
Mmm…such a good day of food.
Have a delightful Wednesday!
<— Runners: do you stop your timer at stoplights/on walking breaks? Apparently, I only want my time to reflect the actual running portion of the workout.
<— Last restaurant you went to?
<— Do you consider walking around grocery stores to be your idea of a good time? Oh, just wait until Minneapolis…Trader Joe's and US Whole Foods, here I come.