15 Flares
Made with Flare

More Info

'>
15 Flares
×
So yesterday I mentioned what some of my strategies are to fix my HA, so why not take today to see some of those in action?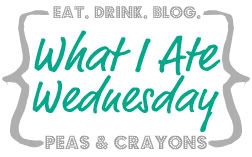 Too things about this WIAW:
1. I don't implement every strategy every time I eat. For example, I didn't have any liquid calories on Monday, which is when this WIAW is from. Just means more chocolate milk down the line!
2. I know I've mentioned this in WIAW's before, but it still applies: I don't photography every single thing I eat. Because really, every time I walk into the kitchen and grab a palmful of nuts or cereal or bite of something would make for a post of a million pictures, and ain't nobody got time for that. 
So with that, on to the food, shall we?
Breakfast:
Breakfast hasn't changed much – although I started adding a spoonful of chia seeds into my oats again. I forgot how much I love that texture! Plus a big scoop of Cinnamon Raisin Swirl PB and raspberry jam.
Snack:
Trail mix! This is Archer Farms Chocolate Cranberry Crunch. I went back to pick out more chocolate covered cranberries out of the bag…good stuff.
Lunch:
Sometimes, you just need a snack plate for lunch.
Roasted kabocha, a big-ass (technical term) sliced banana, cottage cheese with raspberry jam, and an avocado half with salt, pepper and hot sauce. (I feel like I'm channeling Amanda with this lunch…although maybe minus the hot sauce). 
P.S. this is my new second-favourite way to eat avocado (guacamole is always the favourite).
Snack:
Roasted turkey and cashews.
Is this a weird snack? I feel like this a weird snack.
Dinner:
I hadn't made a home-cooked dinner in a couple of days, so I made it count.
Salmon, roasted sweet potatoes (+ketchup) and bacon-wrapped asparagus. It is ridiculous how much asparagus Eric will eat if I wrap it in bacon.
Dessert:
Vanilla ice cream with Cinnamon Raisin Swirl:
And I went back for seconds on the ice cream. It's been forever since I had regular vanilla ice cream, but it really is good stuff.
That's all for me today – I hope your Wednesday is wonderful!
<— Favourite things in trail mix? Anything chocolate, dried mango or pineapple.
<— Last 'weird' snack you had?
<— Snack plates for lunch – yay or nay?