14 Flares
Made with Flare

More Info

'>
14 Flares
×
Hii! How's your week going? Hopefully well, but if it's not…at least it's halfway over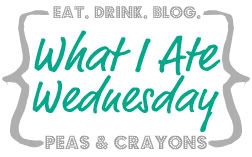 And since it's Wednesday, that means I get to show you a day of eats! Yesterday was my first day back at school after the holidays – I have to say, that was a nice three week break there. This semester, it looks like I'll be going to school once every week or two. That is fine with me…really, I'd like to keep winter highway driving to a minimum!
Breakfast:
I had a little bit of an early start in the morning, but of course, I made time for breakfast:
Chocolate protein oats with flax seed and maca powder, topped with cacao coconut butter. Because clearly, chocolate is the best way to start the day.
Lunch:
So I'm really, really bad at packing lunches. I chronically under-pack, so I usually end up wandering around in search of a snack an hour after eating. This might have something to do with the fact that I'm still half asleep as I'm throwing lunch together…
Spinach salad with a chopped chicken burger, dressing, and baby carrots. Yup, not enough food at all.
Lunch Part Two:
A Quest bar buried at the bottom of my purse to the rescue! This was my first time trying Chocolate Chip Cookie Dough. I do love all things CCCD, and this was no exception. But before you say anything – yes, I know I have to try it baked. Next time!
P.S. Even at school, I eat at the computer/my desk. Some things don't change.
Snack:
For some reason in the afternoon, I was feeling cereal. Not a usual craving for me, but I went with it.
A mix of puffed rice and Vanilla Almond granola with almond milk.
Dinner:
So dinner was fabulous:
French toast! You can't go wrong with breakfast for dinner, especially when pure maple syrup and peanut butter are included. When it comes to sweet carb-y breakfasts, I always think that waffles are my favourite until I make french toast. Yup – french toast definitely wins out.
Snack:
A yogurt and chocolate casein mix to round out the evening.
So oatmeal, cereal, french toast, and yogurt. Apparently, I was in a breakfast-y mood yesterday. Of course, I'm ok with that – aren't all the best foods breakfast foods?
Have a great Wednesday!
<— Waffles, french toast or pancakes?
<— When was the last time you had breakfast for dinner?
<— Lunches: Do you tend to under-pack, over-pack, or get them just right?