15 Flares
Made with Flare

More Info

'>
15 Flares
×
Hello there! Happy Wednesday! Hopefully, your day is getting off to a fabulous start.
Since it's finally starting to feel like spring around here (I haven't had to wear my winter coat in like 4 days! That is amazing!) my eats are starting to reflect the change in weather.  I've still got some winter favourites kicking around (squash!) but my eats are changing a little bit to reflect some of my favourite Spring-y foods. BBQ, salads, smoothies, fruit and ice cream all scream warmer weather to me.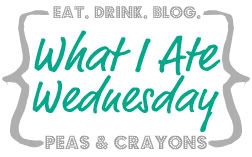 So..let's take a look at some of my 'the-thermostat-is-slowly-creeping-up' sort of eats, shall we? Thanks to Jenn for hosting our favourite foodie linkup!
Breakfast:
A chocolate-banana-PB smoothie (almond milk, North Coast Naturals chocolate protein powder, PB2, spinach) topped with Cinnamon Puffins and coconut butter.
Snack:
I made banana bread on Sunday (this recipe that I adore, except I re-glutenized and de-veganed it. And pounded a chocolate bar with a rolling pin and threw that in the mix) so I went for that as my morning snack.
Mmm….banana bread.
Lunch:
Just some eggs on top of roasted kabocha. It almost did the trick…
Except then I needed more banana bread.
Snack:
I took a little spoonful of Cinnamon Raisin Swirl while I was debating what to snack on.
And of course, my third banana bread hunk of the day. This is why I don't bake banana bread too often – it barely lasts more than a few days around here!
Dinner:
How about some BBQ to get you in the warm-weather mood?
I noticed that ribs were on sale over the weekend, which are Eric's favourite. So, I decided to earn some girlfriend points and cook up a rack for dinner. Of course, they're not quite as awesome when you don't have a grill…and I accidentally overdid them a little in the oven. Nothing a little extra BBQ sauce can't fix though! And a side spinach salad for some veggies.
Snack:
One of the usuals:
Cottage cheese mixed with chocolate casein, Justin's Chocolate Hazelnut Butter, and a swirl of chocolate sauce to top it off. The chocolate sauce is a new addition, but it needs to stick around…a little bit goes a long way!
So, the ribs gave me a craving for more BBQ…I think Imma need some pulled pork in my near future. 
But that's all for me, have a good one!
<— What food do you tend to crave in Spring?
<— How long does banana bread last in your household?
<— Favourite BBQ food? I like ribs, but I have to give it to pulled pork and cornbread.
<— Chocolate or caramel sauce?