15 Flares
Made with Flare

More Info

'>
15 Flares
×
So we all know how Wednesday goes.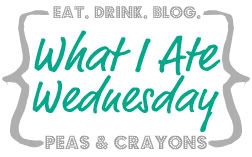 Yup, WIAW. Thanks to Jenn for hosting!
Monday was a bit of an unusual day for me. Allow me to explain, WIAW-style. 
Normally, Eric drives to work Monday mornings….but instead, he had to take a cab Monday. Because the wind chill was apparently so bad Sunday night that the car wouldn't start Monday morning. #fail.
Normally, I have a sweet breakfast. Instead, I…
had half a smashed avocado on rice cakes with runny eggs and a side of kabocha. Delicious, even though savoury breakfasts are still foreign to me.
Normally, I would need a hot lunch on a super-cold day. Instead, I…
went for a green smoothie (frozen banana, North Coast Naturals 100% ISO protein in chocolate, PB2, maca powder, spinach, and a bit of almond milk). Topped with Mini Wheats, of course.
Made with my newest kitchen toy – review to come next week!
Normally, I go for chocolate or something along those lines if I'm feeling dessert. Instead, I…
had a scoop of peanut butter. It was a good decision.
Normally, I go to the gym for my workouts. Instead, I…actually got in a workout at home! I was planning to go to hot yoga but with the car out of commission that wasn't an option. So, I did this workout from PopSugar Fitness. To be honest, the most astounding thing was that I did it without kicking over the coffee table or anything. I think my gym needs to get on capoeira classes…
Normally, I try to avoid having a prepackaged snack when I'm at home, so I can save them for when I get hungry when I'm out and about. Instead, I…
popped a White Chocolate Raspberry Quest Bar in the microwave and inhaled that after I got the car issue sorted out. Fortunately, our battery wasn't dead and we just needed the CAA guy to give us a boost. Then I had to sit in the car for 30 minutes with it running <— I was mentally apologizing to environmentalists the whole time.
Normally, I have my dinner plan sorted out. But since Eric wasn't sure if he was going to be home or not for dinner Monday night, I didn't plan anything. He was, so I just threw some grilled cheeses together.
With ketchup for dipping + side salad for veggies.
Normally, I have chocolate after dinner. Instead, I…
nope, still had chocolate. Chocolate pudding though.
Normally, I have dessert once. Instead I…
had a second dessert. The best friend came over with Timbits – half sour cream glazed and half chocolate glazed. Which are the two best donuts/timbits out there. Complete with wine, because we're classy like that. Oh, and we watched Frozen. 
(img source)
Ohmygoodness, that movie was so cute. Love.
So an out of the ordinary Monday, but still managed to be a good one (besides winter-related car trouble…le sigh). Working on that positivity thing!
Have a good one!
<— Have you seen Frozen? What did you think? If I had my own Olaf, maybe I wouldn't hate winter so much…
<— Best kind of donut out there?
<— Chocolate, vanilla or butterscotch pudding?
<— What's something you've done lately to break your usual routine?