14 Flares
Made with Flare

More Info

'>
14 Flares
×
So last spring, I went through a pretty solid Mexican food phase. I was buying avocados to make guacamole every week and tacos, fajitas, or enchiladas were making appearances in every meal plan I made. I have to say, this was a pretty fabulous kick to be on. But I must have burned myself out on it a little bit, because I realized the other day that I very rarely make Mexican food anymore.
Not acceptable, because Mexican food is amazing. So I was happy to put in one of my favourite Mexican offerings – enchiladas- for dinner on Monday night on my weekly meal plan. But because it's Wednesday, I get to show you the rest of my eats from the day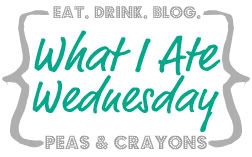 Thank you to Jenn for hosting!
Breakfast:
It's the middle of winter, but I still found myself craving a smoothie Monday morning. So I went with it.
Eaten out of a bowl and topped with granola = the best way to do smoothies. This mix had a frozen banana, a scoop of chocolate whey protein, a bit of chocolate PB2, spinach, almond milk, and a pinch of xanthan gum.
Lunch
Basically, some sort of variation of this lunch is on the menu most days of the work week:
Spinach, kabocha, yogurt dressing, and eggs. The ingredients vary slightly (sometimes sweet potato or a different kind of squash, sometimes rice, sometimes quinoa, or I'll do chicken or cottage cheese instead of eggs) but it's always my go-to. I don't like to put a lot of thought into lunch, so this is just usually what ends up happening. It's delicious though, so you won't see any complaints from me.
Snack
I bought a package of Simply Protein chips a while back and stashed in the pantry, so I dug those out for my afternoon snack on Monday.
I'm not the biggest savoury snack person, but these are definitely favourites of mine. The chili flavour actually has a little bit of sweetness to them, which I really like.
Dinner
Enchiladas!
I made Jessica's Buffalo Chicken Enchiladas, but I used skinless drumsticks instead of the chicken breasts she recommends and only had enough filling for 6 tortillas. And woooow was this spicy. I've said before that I'm a fan of spicy foods, but this left Eric and I both guzzling down water as we were eating. Note to self: less buffalo sauce next time. Oh, and I left off the Gorgonzola, because I went shopping before I went to the Wine and Food Show so it was before I realized that I actually like Gorgonzola.
Topped with guacamole to lessen the spicy sting a little.
But you know what really takes the edge off spicy food?
Dessert
Ice cream. That would be Moose Tracks flavour – vanilla with a fudge swirl and mini peanut butter cups. It is easily my favourite ice cream ever – amazing.
So a good day of food 
 Have a good one!
<— Are you a fan of Mexican food?
<— Favourite smoothie combo?
<— Your go-to lunch right now?
<— What's your spicy-food tolerance? I love spicy foods, but I definitely have my limits. I remember ordering suicide wings once and feeling like my face was actually going to melt off