11 Flares
Made with Flare

More Info

'>
11 Flares
×
Happy Wednesday! I, for one, am excited that we're halfway through the week. And the fact that it's Wednesday means that it's time for the weekly foodie voyeurism that is WIAW.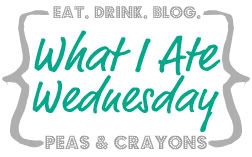 Pop over the Peas and Crayons to see what deliciousness people have come up with this week!
For today's WIAW, I'm covering the conference I was at on Friday – so let's begin, shall we?
One of my cousins lives in Ottawa with her boyfriend, and they were nice enough to let me take over their living room for a few days.
Clearly, this picture doesn't even begin to do the city justice, but Ottawa is absolutely gorgeous. Definitely a city that I would consider living in one day.
Breakfast: 10:15
So for the conference, I was up at 7:15 with plans to grab a quick breakfast sandwich or something from Timmie's before my group presentation at 8:30. But then…we got lost. And arrived at Carlton (where the conference was being held) at 8:32.
So…breakfast was put off. The first break wasn't until 10 am, so I didn't end up getting anything until just after 10. NOT recommended! I was dying a little by the time I got a chance to eat – how did I ever skip breakfast so often in high school? Uncomfortable.
The presentation itself went pretty well – we had such an early timeslot (and were at the same time as a keynote speaker) that the room was pretty empty. Still some good discussion though!
Finally, breakfast:
I had wanted to run to Starbucks for a breakfast wrap, but when I got there I realized that it was one of the small ones that just has drinks and baked goods. Fortunately, it was right next to a little cafe on campus where I was able to get the above omelette made up quickly – with green peppers, mushrooms, tomato, feta and ham. Feta is one of those cheeses that I completely forget about until I stumble across it and remember how madly in love with it I am..amazing. The toast had gone pretty soggy by the time I got to it, so I tossed that.
Lunch
Conference = lunch is provided for. It came about two hours after my breakfast, so I wasn't particularly starving. It was over lunch that I got the chance to talk about my thesis with the 'academic crush' I talked about earlier – still excited that he liked my ideas! Nothing like getting positive feedback from people you admire.
I went for a half-sandwich (I think it was roast beef), salad with Italian dressing, roasted veggies, and two little nanaimo bar pieces. Nanaimo bars = my favourite dessert of all time. No matter where (or how full) I am, I will not turn one of those down.
The rest of the afternoon was spent in various presentations and listening to keynote speakers. One again, I was distracted by scenery…
I would run more if I could run with that scenery every day. Even though it was pretty dreary that day (I woke up to 5 degrees and rain…not fun when you packed heels and a pencil skirt as your conference outfit of choice) it still looked gorgeous.
We headed to the conference dinner, which was held at Tucker's marketplace in the Byward market. I really wish I had more time in Ottawa – I would have spent a LOT of time shopping in Byward. It's one of Ontario's oldest markets and has some of the most unique looking shops and restaurants…and apparently, a pretty awesome nightlife. I remember getting a chance to explore it a little the last time I was in Ottawa, but I really think I just need to give myself a good solid day there.
Considering my lack of afternoon snack, I was more than ready for food by the time we arrived..fortunately, it was a buffet restaurant so I was able to tackle the food pretty quickly.
Interject with the coolest experience ever: I got to meet a reader! At dinner, Hannah (another woman at the conference) told me that she reads the blog! I've never been approached/recognized by a reader, so it was awesome getting the chance to meet and chat with her. Hi Hannah! Sorry if I acted like a complete dork when I found out you were a reader, I was just so excited 
Wine to start; I was hoping for Riesling but I didn't see any on the menu, so I went for a White Zinfendel. Why yes, I like it when my wine taste like juice.
Evidently horrid restaurant lighting; prepare for some overexposed flash shots!
Round 1:
Some greens, butternut squash, a barley and wheatberry salad (actually my first time trying wheatberries, they got my approval) and two different kinds of mussels. Finding one kind of mussels on a buffet line is pretty wonderful, but finding two?! Amazing. One was in white wine sauce and the other was in marinara (I think). Holy delicious. And the butternut squash was fabulous as well…thinking that I need to pick up some squash soon, despite the out-of-season thing.
Round 2:
Round 2: a Moroccan chicken thigh, a beef taco (fantastic, but would have been better with guacamole) sweet potatoes (fabulous) and a carrot and raisin salad, which I didn't really like and passed on.
Of course, a buffet requires a dessert round:
Dessert round consisted of a few pieces of butter rum bread pudding (so, I'd never actually had bread pudding before…it got my approval. Actually want to look up recipes now!) chocolate mousse, and a banana chunk that I dipped in the chocolate fountain.
So there was definitely a lack of snacking in this post – I was so busy during the day, that I never really got around to snacks. Weird for me, because I'm definitely a snack-y person! Oh well – a day of delicious eats, nonetheless.
I just want to say thanks again to my cousin for letting me stay with her…and a HUGE congratulations goes out to her for running her first marathon! Last weekend was race weekend in Ottawa, and my cousin (who has generally stuck to 10k's and half-marathons) was signed up for the full. She finished, and I could not be happier for her. A massive congrats to Chelsie as well – she kicked absolute ass at the half! I'm just sad I left Saturday, I would have loved to be cheering them on at the finish line on Sunday.
Talk to you soon! 
<— Is skipping breakfast a possibility for you? Never again…that was just uncomfortable.
<—What is the one dessert you absolutely cannot turn down? I generally can't turn down anything that involves chocolate and peanut butter, either.
<— Do you ever do the three meals a day thing? I generally do a 3 meals, 2-3 snacks thing.
<— Bloggers: ever been recognized or approached by a reader? Made.my.day.