16 Flares
Made with Flare

More Info

'>
16 Flares
×
Hello and good morning! Happy Wednesday!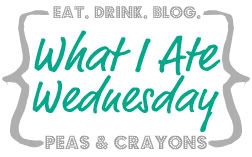 AKA: Happy WIAW…AKA: enjoy a day a drooling over food creations
 Thanks to Jenn and her little chickpea for hosting – who is now among us! Cannot wait to hear the details.
For today's post, I'm showing you what I ate over my moving day last Saturday. Our fridge was emptied and packed, so almost everything I ate was of the takeout variety. I figure I don't eat like that everyday, so once in a while it doesn't hurt!
So, breakfast. We were up and packing away the last of everything by about 7, so once all of our 'volunteers' arrived by 8:30, I made a quick run to the Tim Hortons down the street for breakfast and coffees.
I assumed that the sandwiches came on English muffins, but apparently it's on a biscuit unless you request an English muffin? I must have been thinking about McDonalds Egg McMuffins…either way, it was still tasty. Egg, ham and cheese on a biscuit.
I also picked up a small box of Timbits (basically, they're the same as Munchkins for my American Dunkin Donuts fans) and when I saw that they through a sour cream glazed in there, that one was all mine. Best donut ever.
So good.
Apparently, my dad is really good with organizing and moving people because we had the U-Haul and the cars completely packed and ready to go before 10 am.
That plus 3 packed vehicles. Yup, we have a lot of stuff.
Once we got to the new apartment, moving everything in was fairly easy. We're on the first floor, so we were easily able to just hand things in over the balcony.
But then we had a lot of this to deal with.
Around 1:30, my mom pointed out that we should probably get something to eat. For once in my life, I was so busy that I didn't actually notice that I was hungry! We ended up heading to a nearby Quiznos to grab some lunch.
I wasn't really feeling a sub and planned on getting the salad and soup combo, but apparently there was some mis-communication and the server thought that I only asked for the salad, so when we got home (I love saying 'home' in referring to our new place!) all I had was a small seafood salad.
Clearly, not enough food. Fortunately, one lonely sweet potato, cinnamon and my jar of coconut butter had made the trip and were already unpacked, so I managed to throw that together for a side.
Plates hadn't been unloaded yet though, so  a paper towel had to suffice. Predictably, the rest of the afternoon was spent unpacking and setting up our new place. 
When we made the decision that we were moving back to London and had our apartment picked out, I told Eric what my request was for moving day food. Moving is synonymous with greasy food and takeout, am I right? So, I wanted takeout that has been recommended to me dozens of times but I hadn't tried yet.
Yup. Five Guys. They just started opening up in Canada within the last couple of years, and as far as I know London currently has three locations. I've heard from multiple people that they have their favourite burgers ever, so of course, my curiosity about them has been peaked. We have one about 5 minutes away from us now, so around 7:30 we headed out.
When ordering, we had originally planned to just share a large fries – the cashier nicely informed us that a large can feed three adults easily. So…medium it was. Eric went for broke with the bacon cheeseburger (all of their regular burgers have two patties) while I went with a little cheeseburger.
I've said multiple times that I'm picky about beef burgers. The meat has to be high-quality, it has to be cooked just right, and the toppings have to be good.
That being said:
Colour me impressed. I ordered it with lettuce, tomato, ketchup and pickles, and it was excellent. Greasy of course, but so, so good.
And we need to talk about the fries.
Fries, I can take or leave. I love sweet potato fries and onion rings, and I'll swipe bites of poutine, but generally not something I get excited about. But these fries were amazing. Definitely on the salty side, but so flavourful they didn't even need ketchup. From me, that's saying something – usually if it even so much as resembles a fry I dunk it in ketchup. Those were basically crack fries.
We ate it on the couch watching Orange is the New Black. Everyone who recommended that show to me – you were onto something. I'm really enjoying it so far!
Needless to say, that dinner definitely had me full for the rest of the evening. As awesome as it to eat takeout once in a while, I'm happy that my kitchen is now set up and I'm cooking again!
Have a great Wednesday!
<— Have you had Five Guys? What did you think?
<— Fry fan, or would you rather order a different side?
<— When was the last time you moved?