14 Flares
Made with Flare

More Info

'>
14 Flares
×
So before I get into the rest of this post, I have to give a big resounding thank you for all of your lovely comments on yesterday's post. Talking about stuff like that is a little awkward to do on the internet, but you guys always make me feel like those difficult posts are worth it. And a lot of people seem interested in my experiences with it, so I'll be sure to do an update post in the next couple of months.
But, today's post is all about the food.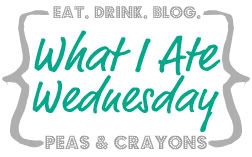 Because it's Wednesday. Of course. Thanks to Jenn for keeping up with her hosting duties, even with her adorable little one around!
So for today's post, I'm covering my eats from yesterday. Another day where I was out of the house from 7:30 am – 9:30 pm. I have to admit, I'm not very good at packing an entire day's worth of food. I've been snacking my way through the afternoon and then eating dinner when I get home late at night. Not exactly ideal, but it's easier for me.
It means that I'm still making good use of my lunch bag for breakfast and lunch, but snacks usually come right out of purse. Lately, I've gotten into the habit of stuffing a few snacks in my purse at the beginning of the week, so that I always have something on hand if I need it.
When I left the house yesterday, I had:
a Questbar

half a pack of caramel macchiato almonds

an apple

a ThinkThin bar

a cheese string
so, I make sure I have options 
 but yesterday's eats!
Breakfast – 8:30 am
Train breakfast. Brantford is a small city and not a lot of people get off the train there, so once in a while we'll randomly be put in business class. Works for me – it means I actually get a breakfast table.
Greek yogurt with cinnamon, a sliced banana, Justin's Maple Almond Butter, and Quaker Cinnamon Oatmeal Squares.
Yogurt bowls have to be my favourite portable breakfasts. Just so easy and tasty.
Lunch – 12:00 pm.
School. Meetings. Nothing too exciting in my morning. But leftovers for lunch!
Chicken drumsticks, baby carrots, hummus, and roasted kabocha squash. That squash lasted three days, and making it last that long was a challenge.
Snack – 1:30 pm
Definitely needed another snack an hour and a half later. A cheesestring it is.
Snack – 5:00 pm
I TA from 4:00 to 7:00, but I was feeling pretty munchy around 5, so I downed another (obvious from the purse – just look at how crunched that is) snack:
Chocolate Peanut Butter Toffee Think Thin bar. I picked up a few of these bars at Whole Foods in Minneapolis because I was curious about them, but this was the first time I actually tried one. It's pretty good – it tastes like a chocolate bar and the ingredient list isn't half-bad.
Dinner – 9:30 pm
Dinners definitely come late on Tuesdays, and are made up of whatever I can find in the fridge.
Monday night for part of dinner I made brown rice with black beans, corn, onion, green pepper, and a bit of salsa. So dinner last night was leftover rice on top of a bed of spinach with guacamole and more salsa. Eric had gone out for dinner and brought home leftover popcorn shrimp, so a few of those made their way on there as well…and a few more didn't make it on to the plate 
Of course, a dip into my candy jar for dessert:
Lindt Crunchy Nougat. A fantastic way to end the day.
Busy day, but at least I still make sure to eat well. Have a good Wednesday!
<— What snacks are in your purse/bag right now?
<— What is your favourite portable breakfast?
<— What's you favourite dessert/snack to end the day with?