13 Flares
Made with Flare

More Info

'>
13 Flares
×
Because sometimes, the food can just speak for itself, can't it?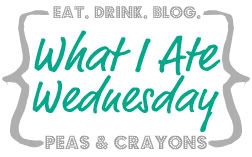 Although, I talk a lot so…I'm not sure how 'straight to the point' I can get. I'll try though!
Breakfast:
Oats, peanut butter, jam, and an egg. Enjoyed outside because woot summer-like weather!
Snack:
Greek yogurt and almonds. Simple but tasty.
Lunch:
I had a photo shoot and then ate my subject. Recipe coming tomorrow!
Snack:
Smoothie bowl (frozen banana, almond milk, vanilla protein powder, coconut flour, spinach) with coconut butter and PB Puffins. Of course, added more Puffins halfway through.
Snack-Dessert:
Is that not a thing? A square of Lindt Excellence Toffee Crunch.
Dinner:
A slightly lame taco salad with romaine, salsa, seasoned ground turkey, sour cream, and crumbled taco shells. Slightly lame because I forgot to buy cheese and my avocados weren't ripe yet.
Snack:
Amanda's Double Chocolate Mug Cake (notice how these pop up all the time in my WIAWs?) minus the chocolate chips and with a massive scoop of Ovomaltine Crunchy Cream. It's a really good thing that that stuff isn't available here (that I've ever seen) and has to be shipped to me via Lucie (thank you lovely!) because holy hell is it addictive.
Ok. 289 words in this post. That's pretty much as 'straight to the point' as I'm ever going to get.
Have a good one!
<— If you're going to eat chocolate in a day, when would you normally have it? i.e. after lunch, after dinner, mid-afternoon…?
<— Do you have a habit of talking a lot or rambling? Considering that I have a lot of posts that hit the 1200+ word mark…yup.
<— Tacos or taco salad? Either/or for me. Or both, that's cool too.
<— What's for dinner tonight?