16 Flares
Made with Flare

More Info

'>
16 Flares
×
Hi there! Thank you for all your support and encouragement on yesterday's post, first of all. I keep trying to tell myself that there are worse problems to have than having to exercise less and eat more…but it still sucks. Again, I'll do a more thorough post after I (hopefully) get a confirmed diagnosis when I see my doctor in a few weeks. I've had to go in for an ultrasound and a blood test recently, so I imagine that we're ruling out other possibilities (PCOS, thyroid disorders) first. But I've been doing a ridiculous amount of online sleuthing lately, and HA seems to make the most sense with my symptoms. But again – I'll update on the situation soon!
But, today's post is all about the food.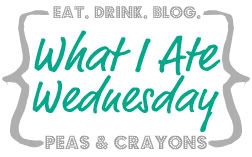 More specifically, Superbowl food. The other day I read that 14 500 tons of chips and 8 million pounds of guac are consumed on Superbowl Sunday…and I definitely contributed to that 
 (source). What can I say…I'm starting on packing in those healthy fats!
Breakfast:
Oatmeal, peanut butter, jam, eggs. A breakfast staple for me that never disappoints.
Snack:
My mom  asked me to bring a dessert for their Superbowl get-together, so after breakfast I started working on that. I ended up making two – and of course, had to do some bowl-scraping/spoon-licking/taste-testing. Fortunately one of the desserts I was putting together was a vegan option, so less of a chance that I was going to find myself with food poisoning 
Lunch:
I was getting hungry by the time we got to my parents, so I threw together a quick salad with what I could find in their fridge.
Greens, deli chicken, cheese, tomato, and an avocado dressing. Baby carrots on the side x a million.
Then the chips and dip came out.
Mmm, stereotypical football food.
Dinner:
For dinner, my mom made chili. It's her go-to when there's a crowd, and it's always fabulous. She actually cooks it in a big turkey roaster/slow cooker, so it always has a ton of flavour.
Chili is also on my list of things improved with the addition of cheese.
And a nice little chunk of garlic bread for dipping.
Dessert:
Like I previously stated, I made two different desserts. First one was the Beer and Bacon Pecan Bars I linked to last week:
And as the healthier alternative, I made Davida's Best Ever Banana Bread. 
I added a chocolate glaze, because that's basically the best way to take something from a snack food to a dessert food (although I insisted on taking home leftovers and have been snacking on them ever since…). 
Throughout the night I had 2 of the pecan bars….and more than that of the banana bread. Lady wasn't kidding with the 'best ever' title.
Amazing. Even though I definitely went to bed with some unpleasant heartburn.
Oh, and the game itself? I think we can all agree that it was on the boring side…
Atticus thought so, at least.
But that's all I have for you today – have a great Wednesday!
<— Did you eat any 'stereotypical' football food on Sunday?
<— Do you experiment a lot with vegan/gluten free/other specialty baking? It's a fun way to push myself outside of my comfort zone.
<— Last dessert you had?