15 Flares
Made with Flare

More Info

'>
15 Flares
×
Annnnd it's Wednesday.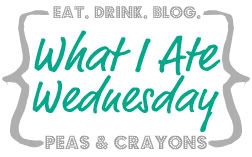 This doesn't even need an introduction, does it? It's Wednesday, so I'm going to show you all my eats for a day. That's just how it is in blogland.
It's not officially summer in these parts yet, but it's starting to get pretty warm – the last couple of days we've been hitting temperatures in the mid-20s (high 70s) with quite a bit of humidity – yesterday it felt like 34/93. It's feeling pretty summer-ish around here!
Naturally, this changes my eating habits a little bit, especially since we haven't put in our air conditioner yet. For me, that means lighter meals, more salads, more fruit, BBQ, ciders and fruity drinks, and of course, ice cream. All good stuff
So, the eats from Monday:
Breakfast:
Messy bowl of protein oats with a sliced banana, Justin's Vanilla Almond Butter and Trader Joe's fig jam. Even in warm weather, I will happily eat oatmeal. I already knew that I loved Justin's AB, but the fig jam was a new one for me – it's so good! So much flavour packed into that.
Lunch:
I didn't end up eating a mid-morning snack, so I was good and hungry by the time I got home from hot yoga. Because apparently, I will still go to hot yoga in hot weather.
The best salads are the ones where you just dump the contents on your fridge onto a bed of greens – I know Arman knows this
So, we've got spinach topped with some cold roasted kabocha and sweet potato, leftover salmon, cold roasted green beans, balsamic vinaigrette, and topped off with an egg. It certainly did the trick.
Dessert:
Just as fantastic as I remember it. Now the challenge is to try and avoid drinking one every day…
Snack:
Strawberries and a rice cake with peanut butter. I got a giant container of strawberries for 50% over the weekend, so I'm basically eating them like it's my job right now. Not the worst thing ever.
Dinner:
I don't think stirfries are particularly summer-y, but they're always delicious. Shrimp, crab, mixed veggies and my homemade sauce on rice noodles.
Dessert:
Ohmygod I can't get over how amazing this stuff is. Like the Justin's Vanilla AB, I REALLY should have bought more than one! If you haven't tried the new core flavours from Ben & Jerry's, you should probably get on that immediately. Eric and I finished off about half the container (AKA: Eric had some and proclaimed it tasty while I shoveled bites in my mouth making inappropriate noises) before I managed to put it away for another time. 
And then Eric told me about the Ben & Jerry's factory tour he went on when he was a kid during a family trip to Vermont. And now I have something else on my bucket list.
But that's all for me today, have a good one!
<— Do you still eat oatmeal in the summer/warm weather?
<— What foods do you gravitate towards in warm weather?
<— Do you exercise habits change in hotter weather? I start wanting to spend more time outside, but usually go out either first thing in the morning or later at night.
<— Anyone want to come with me to an ice cream factory?