13 Flares
Made with Flare

More Info

'>
13 Flares
×
Hello there! I hope everyone is keeping warm today….ugh. This is one of those moments where I'm particularly grateful that I work mostly from home this year. It means that on days like yesterday (felt like -40) I don't even have to think about going outside if I don't want to.
(I wanted to get a picture of the snow outside, but I refused to open the door…so frosty door picture it is. And that frost is on the inside, by the way).
Which come to think of it, happens on a lot of cold weather days. Winter turns me into a hermit. I'm ok with that though 
But even hermits can eat good food, right?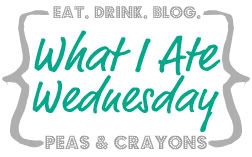 Thank you to Jenn for hosting!
So for today's What I ate Wednesday Tuesday, I'm focusing on what I eat when it's freezing outside and I refuse to leave the apartment. I tend to crave lots of comforting foods in cold weather (oatmeal, casseroles, pasta, soups, stews)…but for whatever reason, my love of certain hot-weather foods (salad, yogurt, smoothies) doesn't seem to go anywhere. So I just kind of roll with it. Even if that means I'm huddled under a blanket to eat my smoothies and yogurt bowls!
Breakfast: 
Can you tell I cook my oats in the microwave?
Chocolate protein oats with Justin's Maple Almond Butter. I think we can all agree that oatmeal is the perfect choice when you wake up and it's so cold that the inside of your patio door has frozen.
And then a chocolate kiss….because why not have dessert after breakfast?
Lunch:
But I wanted a summery salad of sorts for lunch. At least the tofu was warm, so that kind of counts as comforting food? Spinach, roasted kabocha, and buffalo tofu. Roasted garlic yogurt dressing added post picture.
Snack:
Greek yogurt with honey topped with some mocha almonds I found stashed in the pantry. Because even when it's freezing outside, yogurt is still awesome.
Dinner:
 But dinner, however, was extremely winter-y. I made Kristen's Skinny Cheesy Chicken and Broccoli Rice Casserole, and it was fabulous. The only downside was that I got distracted and started on it too late, so we didn't end up eating until almost 8 pm and I was ready to eat my arm off. I settled for some unpictured baby carrots and some nabbed bites of chicken, instead 
While it definitely wasn't as rich as a traditional casserole, it didn't taste super-light, either. It was worth the wait.
Snack:
Annd something warm to end the evening:
A casein mugcake topped off with some peanut butter. Definitely a comforting way to end a chilly day.
Eating good food is a good distraction from awful weather, right?
Have a good one!
<— Do you find that your eating patterns change with the seasons?
<— Favourite breakfast on a cold morning?
<— Anyone else refuse to leave their apartment in super-cold weather? I'm actually pretty convinced I wouldn't even have gotten the car to start yesterday.
<— What's your favourite type of casserole? This one was pretty good, but I have a Mexican one that I like a little bit better.